1. I keep seeing people mentioning "chipmonks." Every time I see that, I picture a bunch of peaceful little chipmunks with tonsures.
2. I'm noticing a mom trend around here that makes me curious. I've noticed that of the most cliquish moms in the 'hood, there seems to be a prevalence of sons. If they have daughters, they're younger, but most have none. I'm wondering if there is something to that, or if it is mere coincidence. It seems odd to be just coincidence, though. I wonder if it's a subconscious thing, to exclude or avoid girls and moms of girls, or if they are deliberately not cultivating friendships between kids of different sexes for their kids. Perhaps it's the subconscious desire to hold up sons as the prize, giving one elevated status to be the Mother Of Boys, that we pretend not to have here in the US, but that those of us with daughters know quite well. It is absolutely NOT all moms of boys--many of A's best friends are boys, and their moms are awesome--but this Alpha thing seems so much more common among moms of boys. So, put down your defensive arms and let us discuss rationally. Do you notice more Alpha Clique stuff among moms of girls or boys, or neither? I'm curious what it is like in other neighborhoods. Perhaps this is unique to mine.
3. I showed this photo to my mom, and she said, "I told you to knock their horns off at birth. Now look at them!"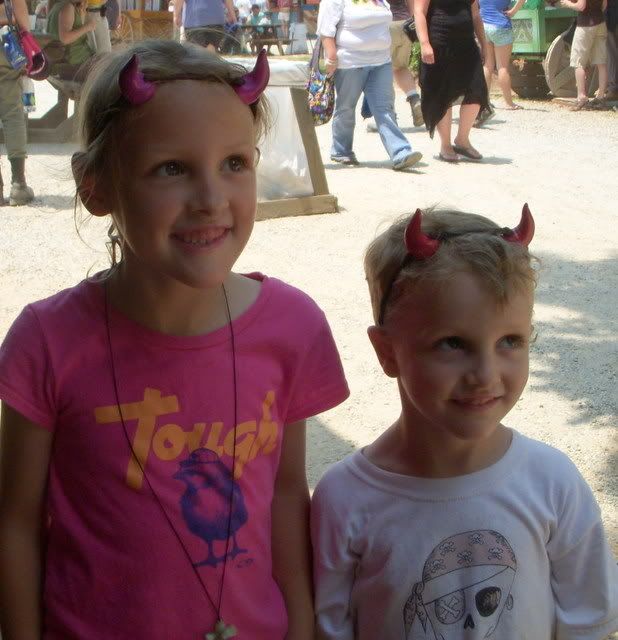 Obviously we went to Ren Fest yesterday.
4. We're going to church this morning. I'm still debating which is more important: community church that isn't the right denomination, or the right denomination where we don't know anyone yet.